Becca Voigt's CrossFit Training Yard is growing and we're looking for an enthusiastic fitness focused professional to join our coaching team!
From when we first opened our doors in 2014, to now, our mission has always been clear; share our passion for CrossFit with as many people as possible by creating an environment that is fun, educational, clean, positive and well-equipped. Now, as our community continues to grow, we are searching for like-minded individuals to help us effectively continue this mission.
If you yearn for constant and never-ending improvement, both in yourself and those around you, then we'd love to hear from you!
Send resumes / CVs / your stories / inquiries / etc. to info@crossfittrainingyard.com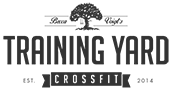 Building Better Humans